4 Best Email Apps For MacOS X And Higher Versions
Apple Mail is the native email client for Apple users. The app is preinstalled on your MacBook and iPhone, so there's not much else you need to do besides setting up an iCloud account to use it. Apple Mail helps you perform basic tasks, such as sending, receiving, and archiving emails. What stands out the most is the option to put all your email accounts in one place — even if it's not an iCloud mail address.
Although Apple Mail has received a major makeover since the Ventura update, there's still a wide room for improvement. Beyond the basics, and newly added Quick Cancel, Remind Later, and Follow Up features, not much has changed. You still can't configure quick replies like Gmail does or bring your remote team together. 
That said, there's no app that has it all — but we may know a few of them that come close. If you're looking to switch from Apple Mail, we've listed the best email apps for macOS X in this post. Before then, it's worth noting the difference between an email app and an email service provider to avoid any confusions.
What is the difference between an email client and email service provider?
An email app, or client, is any application or software that allows you to add your email address to it and view your messages. You can read, send, archive, and perform a suite of other actions for emails in your client app. Microsoft Outlook, Airmail, and Spike, are among the many examples of email clients or apps. 
On the other hand, an email service provider refers to the platform that makes it possible for you to create an email address or account. They also provide technical support necessary for sending and receiving emails, as well as define the rules for doing so on their platform. Gmail, iCloud, and Outlook are examples of email service providers.
Some email service providers can also double as email clients. For example, Gmail allows you to create email addresses, and also has an app for managing emails. The same goes for Outlook and iCloud. Nonetheless, it's possible for you to have an email account with a service provider and different apps to manage your emails.
Overview of the best email apps for macOS X.
Our picks of the top 4 email apps for macOS X
1. Airmail – something that looks like Apple Mail
Pros
Dark mode is available 
Email templates.
Works seamlessly across iOS and macOS.
Faster & easier setup than Apple Mail.
Connect multiple accounts, including Gmail, iCloud Mail, Exchange, and Microsoft Outlook.
Cons
Plugins are few.
Not available for Android & Windows devices.
Airmail is designed for iOS, macOS and Apple Watch, which means Android and Windows users can't touch this one. Airmail has everything you need to filter emails and keep your inbox uncluttered, and more. Unlike the traditional Apple Mail app that doesn't have quick replies, Airmail lets you send short messages without expanding the email composer. You can also configure rules to determine what happens to incoming emails. 
Airmail supports plugins, such as MailChimp and Campaign Monitor to help you manage people you regularly exchange emails with. You can also share emails to third party apps, such as OmniFocus, Dropbox, and OneDrive, or send files from any app to Airmail. This action will automatically launch the email composer, and you can send them to any recipients.
Additionally, the interoperability between macOS and other Apple devices leaves much to be desired. You can manage emails with just a notification on your iPhone, iPad, or Apple Watch. Actions you can perform include reply, delete, and archive. This feature is handy when you're in public and don't want prying eyes seeing email contents. You can also protect the Airmail app with Touch and Face ID when your iPhone is in third party hands.
---
>> See Also: 2 Ways you can get WhatsApp notifications on Apple Watch 3,4 & 5 <<
---
2. Microsoft Outlook – an app that also works on Android & Windows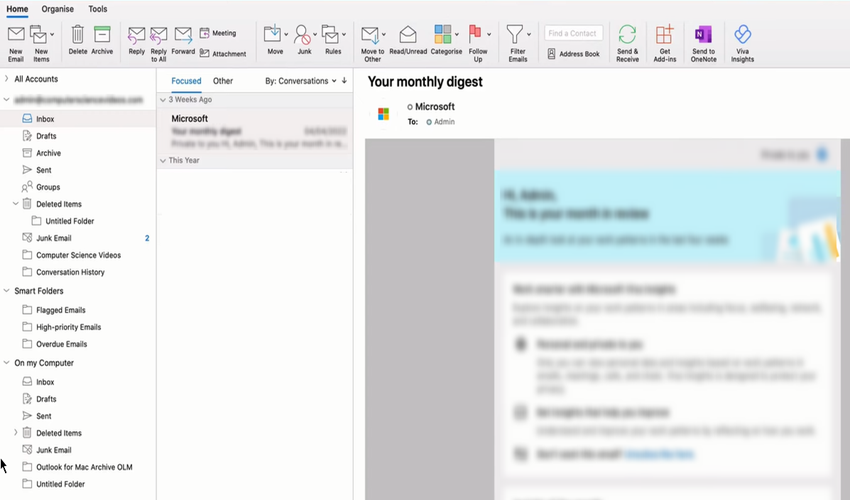 Pros
Mobile app available for macOS, iOS, Android & Windows PCs.
Customize automatic replies.
Create a unique signature for each account.
Choose from 10 color themes & 20 background images.
Dark mode is available. 
Cons
Microsoft Outlook comes with the Microsoft Office software package. Subscription fees include all tools, even if you just need one.

Sophisticated UI.
Microsoft Outlook is preinstalled on every MacBook, and also works with Android and Windows computers effortlessly unlike Airmail — or Gmail. It's no secret that there's competition between Apple and Google. Gmail is as native to Android devices as Apple Mail is to Apple, so you may need to jump through some hoops to get the Gmail client functioning properly on macOS.
If you need something that balances between both OS, the best middle-man is Outlook. Outlook's PC app is easy to navigate. Your messages are sorted into Inbox, Drafts, and Sent, with the addition of Smart Folders to help you organize flagged, high-priority, and overdue emails. Your accounts are also visible in the left side menu where you can hide or expand them. You can also add as many email accounts as needed from Outlook, Gmail, Yahoo, and iCloud. 
However, there's a 15GB storage limit for free accounts. You will need to upgrade your account with a Microsoft 365 subscription plan to get 50GB storage. Pricing starts at $9.99/month for individuals, billed at $99.9/yearly. 
---
>> See Also: How to change password in Microsoft Outlook <<
---
3. Spike – If you love Slack, you'll love Spike. 
Pros
Has a mobile app for Android & iOS. 
User-friendly interfaces & uniform experience on both web and mobile apps.
Customize themes with 25 colors.
Email signatures are available. 
Create & save message templates for the future.
Cons
You need a pro or Business plan to add 3 or more email addresses, and access other premium features.
Free plan limits email search results to the last 60 days. 
No dark mode.
Quick responses aren't available. 
Spike is among the most collaborative email clients on the market. The email client lets you connect with pre-existing email addresses, be it a Gmail, iCloud or Yahoo address. By default, Spike has two categories for emails on the left side menu; Priority and Other. If it looks important, Spike keeps it under the 'Priority' menu and moves less important emails to 'Other'. You can always disable this setting and merge all emails into one Inbox.
Clicking an email opens it and you can perform a range of actions, such as searching specific texts within the email, snoozing, calling the sender via voice or video, and auto archiving future emails from the same sender. At the bottom left side of your screen, Spike's UI features five major buttons:
Home: returns you to the Priority menu if you ever take a trip to the Other side.
Timeline: lets you view events on your calendar. If you have no events, you can create one immediately. 
+ button: serves a multipurpose function. You can create a new message, group, note or task. 
Groups: allows you to manage people under categories to keep your emails arranged. You can make Groups for a work project, family event, study groups, and more. 
Contacts: makes your email look like your Google or Samsung Messages app. You can select a person from the left side menu and send emails like WhatsApp for web does on your PC. Send voice messages, emojis, as well as attach files from the cloud and your device.
Spike offers all the above mentioned features for free. But if you plan to use it for managing small and large teams remotely, you'll need to pay for a plan. A Pro or Business plan lets you add more email addresses, access larger storage, as well as unlock unlimited use of tasks, notes, and Groups. 
---
4. Canary – keep emails from singing like a bird
Pros
Available on macOS, iOS, Android & Windows.
Advanced email privacy & protection with SecureSend.
Recipients don't need to have the app installed.
Quick replies are available. 
Modern & user-friendly interface. 
Cons
Windows version is still in Beta testing. Not suitable for businesses managing large teams.
Separate subscription plan for each device you own.
Frequent app crashes.
Apple devices have more restrictions than any other platform, making them less open to vulnerabilities. If security is that much important to you, then Canary is a suitable match for your MacBook. It's trusted by over 300,000 users like you because of its smart encryption technology. Canary uses the SecureSend encryption system to protect your emails from breaches while in transit.
When you send an email with Canary's SecureSend feature, your recipient only gets an email notifying them that they've received a secure email. To read it, they would need to confirm their email address as an identity verification. Once it's successful, they can view the content of your email and you will receive a notification that they've seen your email. Recipients can also reply to your email with SecureSend, even without having the app installed on their device. 
You can also schedule emails to send at specific times and set expiry dates. Once the specified time reaches, your email will become inaccessible. If you've already sent the email, you can revoke access to it and the recipient can't open it from their end. If you change your mind, you can re-authorize recipients to access the email again. Canary supports accounts on Gmail, iCloud, Outlook, Yahoo, and others.
---
Conclusion 
Emailing may not be as popular as instant messaging, but with the right app, you can double your inbox as a communication medium between you and your remote team — if you have one. Spike offers interesting features for sending voice notes, video and voice calling, sending emojis with different meanings, and even blocking unwanted persons.
If you're not keen on these features, then Airmail might work for you. The app's difference is not so much from Apple Mail, and it supports cross-communication across iOS, iPadOS, and Apple Watches. Whatever your preferences are, you can find the best email app for OSX on this list. If you're always looking for the best ways to protect and backup your emails, you may find these cloud storage apps for smartphones useful.